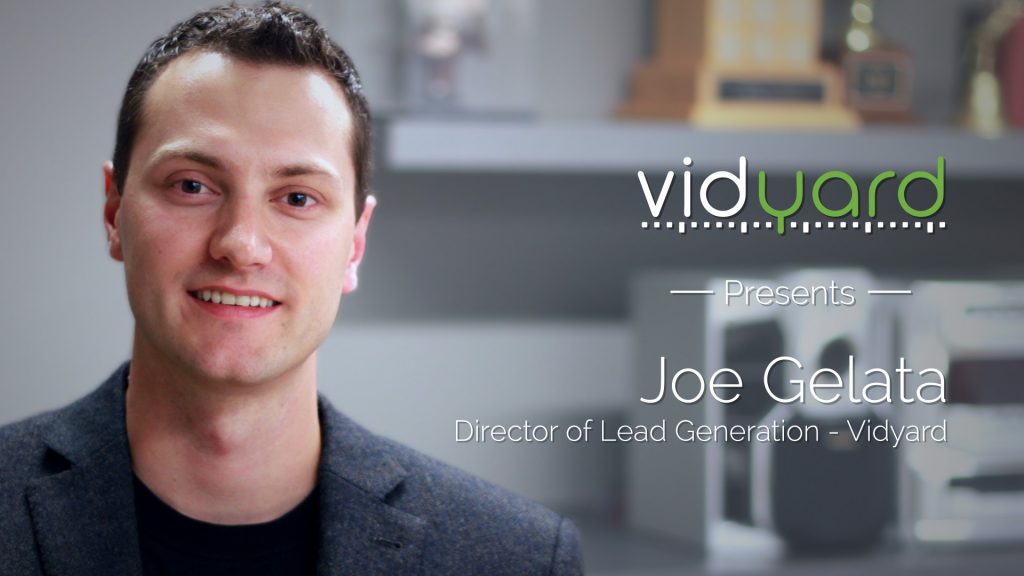 Last Friday, I had the opportunity to sit down with Joe Gelata, the Head of Global Revenue Operations at Vidyard and creator of Revenue Engineer Blog where he discusses the role and responsibilities around Chief Revenue Officers.
How did you come up with the revenue engineer blog?
Quite honestly, it came to me in the shower one morning. [laughter] By 11am I had purchased the domain, installed WordPress, and was writing my first post.  It just made sense that I was putting together a revenue engine for the company [I was at] at the time and working with two of our software engineers using their methods. Assembling the parts that make up a machine and then improving on the certain elements that optimize the machine's mechanics. In the sense of a revenue engine, it's the various team workflows, goals and conversions that make up the larger engine.
What is a Chief Revenue Officer (CRO) responsible for?
Primarily they are responsible for any and all revenue-generation in the business. They strategize and manage the 3 main lead-gen and revenue-gen teams, which are Marketing, Sales, and the Customer Experience.
Secondary to revenue generation, the focus is trying to align each department to maximize effectiveness. Even if they're not working on the same project or campaign, it's important for them to be aware of the other departments efforts and metrics. We have a weekly Go-To-Market meeting with Marketing, Sales, and Customer Experience so the 3 teams can monitor and discuss performance and current priorities.
The title of Chief Revenue Officer is actually evolving to COO (Chief Operating Officer) in many companies. The main focus is once again generating revenue, obviously, but also strategizing around how these teams can operate together to maximize output.
What's the difference of this new role compared to a CMO or CRO then?
Essentially there is no difference; rather the role combines the responsibilities of those roles into one overarching title. Obviously a CMO focuses more strongly on marketing, but a CRO and COO ultimately monitor what areas need to be improved to maximize revenue growth.
This role excels best in a SaaS model because you need a scalable and sustainable revenue model to succeed and operational efficiency can be the difference between the life and death of a company. Additionally, companies selling on a subscription model need churn to be kept low, which means customer satisfaction, retention and growth of existing accounts is crucial; a good revenue model is a driving factor. In a small startup this would be one of the CEO's major focuses to multi-manage the teams and overarching revenue model.  This responsibility is shifted to a CRO or COO once a company becomes big enough where the attention of the CEO is focused elsewhere (fundraising, growing, etc.). With Vidyard and several other organizations I've been close to it was around 100-125 people where we made this switch.
With my role in the company, as Revenue Operations, we're underlying this whole process. The Rev Ops team makes sure that the procedures and strategies are in place and working well by monitoring all aspects of the revenue related teams. Sometimes departments can get lost in the motions of their own team and lose alignment around joint goals, so we make sure that they're aligned and have visibility to their impact on the larger goals of the company.
What is your process when introducing revenue engines into a startup or SMB?
In the early days it's really about experimenting, failing fast, and quickly finding what works.  As you start to learn more about what works and what doesn't, the processes start to form themselves.  The next step is to automate some of them so you can run efficiently but still maintain flexibility and continue to experiment.
It's much easier in a small startup of 10-15 people to have your teams aligned because you're physically sitting in the same room together and you more or less become a family.  But as a company grows this can change quickly and one day you'll find yourself sitting next to 99 other people which makes it hard to understand everything that's going on and keep everyone running in the same direction.
Like I mentioned before, it's kind of a natural process that happens when a company gets too big for the CEO to manage the day-to-day projects of the company. When you grow to 100 or so employees, a CRO or COO role needs to be put in place so each team is aligned and the CEO can focus on steering the larger ship. Having a revenue engine functioning from a small size makes it much easier to transition through these stages.
How does that differentiate from a larger business?
In a large company, business units often function like separate businesses. You're essentially left with multiple small organizations which lends itself well to the same model an SMB would use.  Within each organization you would have someone who carries the typical CRO or COO responsibilities.  They may be a GM, CRO, COO, or VP but at the end of the day they're responsible for driving revenue.  So even in extreme cases like GE with hundreds of units, someone is responsible for the revenue engine in their unique unit and can set strategy with little worry about impact on the other units.  It's still an 'anything and everything revenue' role, but it's group-specific.
What are the main metrics to focus on and why?
It varies slightly depending on the type of company, but in a SaaS setting the biggest focus would be AAR (Annual Recurring Revenue) or MRR (Monthly Recurring Revenue), where you're trying to drive that nice growth curve. At the top level it's bringing in new business to drive ARR, but also the renewal of existing customers and upsells so you can continue building on your base.  Because of this churn or retention is a major area of focus. High churn is a red flag and can kill a company fast.  Conversely, low or negative churn can be an amazing thing.  If you can achieve negative churn you can actually grow your company without acquiring any new customers.  Although I would strongly advise you keep signing up new accounts [laughter].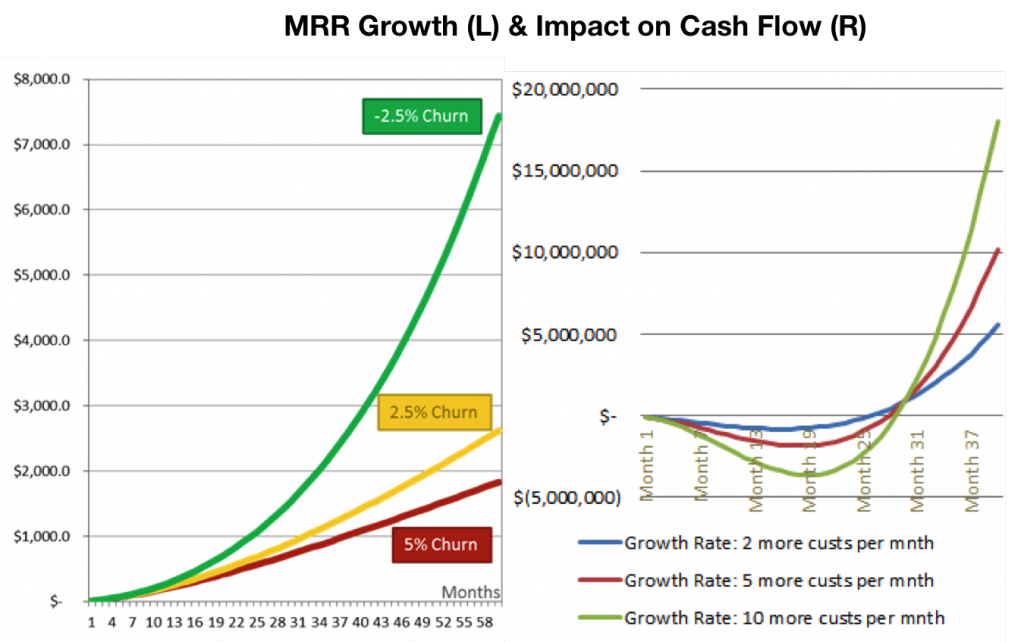 Cash burn is also important.  SaaS companies are not known for being profitable while they grow but it's obviously still important to make sure they're not blowing cash needlessly.  Right now investment dollars are favouring efficient companies with low burn rates even over higher growth companies with excessive burn rates.  In the past couple weeks we've witnessed a hyper-growth SaaS company actually layoff a chunk of employees simply in the name of efficiency and maintain a low burn.
Looking at a step under the larger company metrics, pipeline growth is absolutely critical.  We use waterfall reports that detail progress through our 6-stage funnel and ensure each stage is converting at a strong rate and speed so that each group can hit their pipeline targets. From Marketing generating leads, to Sales converting them to paid customers and Customer Success managing onboarding operations, renewals, and upsells, the report captures the key metrics to monitor and grow these processes.
Being able to focus on data is key. Measuring all our efforts in a quantitative way helps us understand where to focus on improving if the numbers in a certain area fall off the tracks.  This is the number one focus for Revenue Operations.
How can people (without the help of an expert like yourself) begin to introduce this into their business?
Generally it's just a naturally occurring event in a SaaS company, when the CEO gets to a point that they need to start gearing towards other areas, and get pulled away from managing multiple teams on a day-to-day basis. The CEO at a certain point will begin fueling the fire for growth in a different way, and it generally occurs around the 10M in ARR where this happens.
Sounds pretty straightforward, do you have any further recommended material for them?
Yes, definitely. My two favorites are Jason Lempkin and Tom Tunguz, who both have very helpful blogs. When something goes off the rails at Vidyard, there's usually an article about it on Tom Tunguz's blog shortly after. It's almost kind of creepy, like is he tracking us? [laughter] But seriously, it's just because their content is so comprehensive.  The great thing about it is it's 100% SaaS focused and real. It's not just theories and ideas, but they both speak from experience and they're very data-driven, which is exactly what our team at Vidyard believes in.
Jason Lemkin also just released an amazing book with Aaron Ross called 'From Impossible to Inevitable'. It outlines how companies operate and scale.  Like the blogs, it's full of war stories and lessons.  It's right up there with Geoffrey Moore's work.
Thanks for sitting down with me Joe, this is very helpful stuff!